This is a great day! I just submitted my order form to
Munchkin Land Designs
for my first ever customized blog background!
Check out their website - all of the packages are on sale right now and they have an AMAZING portfolio.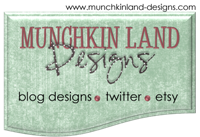 Can't wait to see what it's going to look like - fun updates to come!!
Now off to Brecken's 6 month fam pictures!