I've been seriously MIA lately, but my hiatus is almost over and I'm excited to get you updated on all the One In the SAHM happenings as of late.
Anyway, stop reading my blog and
go visit the wonderful Jenn from MunchkinLand Designs.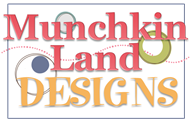 She is giving away the
Elite package for a FREE blog design.
Yes,
she did design this beauty that you're on right now
and she is wonderful to work with.
So take a few minutes, and
go enter her giveaway
-
you know you want a makeover
. FOR FREE!